ACONTESTS.COM TMD2
ToF Measurement Device
General features
Easy mount on trampoline
Accurate (0.005 sec.) ToF and ToN measurement
Synchronization deductions calculation
USB interface
Software for realtime measurements acquisition and storage
Software for ToF measurement using technical video (VTimer)
Works with PC and Mac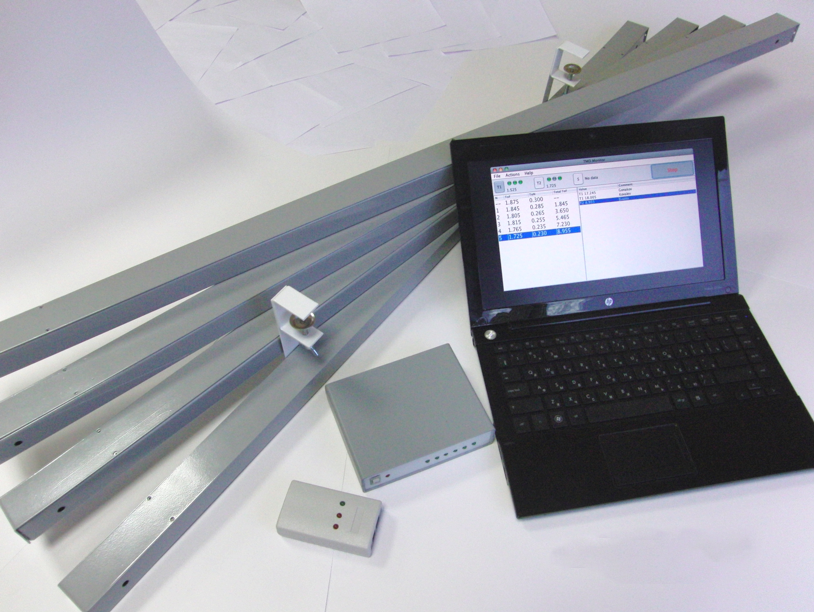 Package contents
4 TMD sensor blocks, processing block and USB block
Mounting cramps
All necessary cables
Differences from TMD1
Controlled directly from computer (START/STOP, jumps review, etc.)

Laptop/workstation is mandatory for operation

Measure ToN (time on net) in addition to ToF
Easier mount on trampoline (all 3 sensors for each trampoline are in a single body)
Much improved software

Easier software setup
Correction of START button press time
TRA1/TRA2/SYN mode selection during or after the exercise

Significant price reduction
Software installation
Windows:
Download and install Google Chrome or Mozilla Firefox, make sure it is set as your default browser
Download and install FTDI driver
Download ToF-monitor software archive
Unpack the archive to the folder of your choice
Run launcher.exe to start ToF-monitor; the page will open in your default browser
Mac OS X (10.8 or later recommended):
Download and install FTDI driver
Download ToF-monitor software disk image
Launch the install script from the disk image. When asked, enter your password in the Terminal (please note that characters will not appear in Terminal when you will be typing it)
Run «TMD2 Start» from the disk image to start the software. To quit it, close the Terminal window and web browser
Keyboard shortcuts
Space – start/stop the execution
1 – set trampoline 1 (T1) as active
2 – set trampoline 2 (T2) as active
0 – set synchro (SYN) mode as active
Enter – set comment for the current exercise (for software version 2 and later)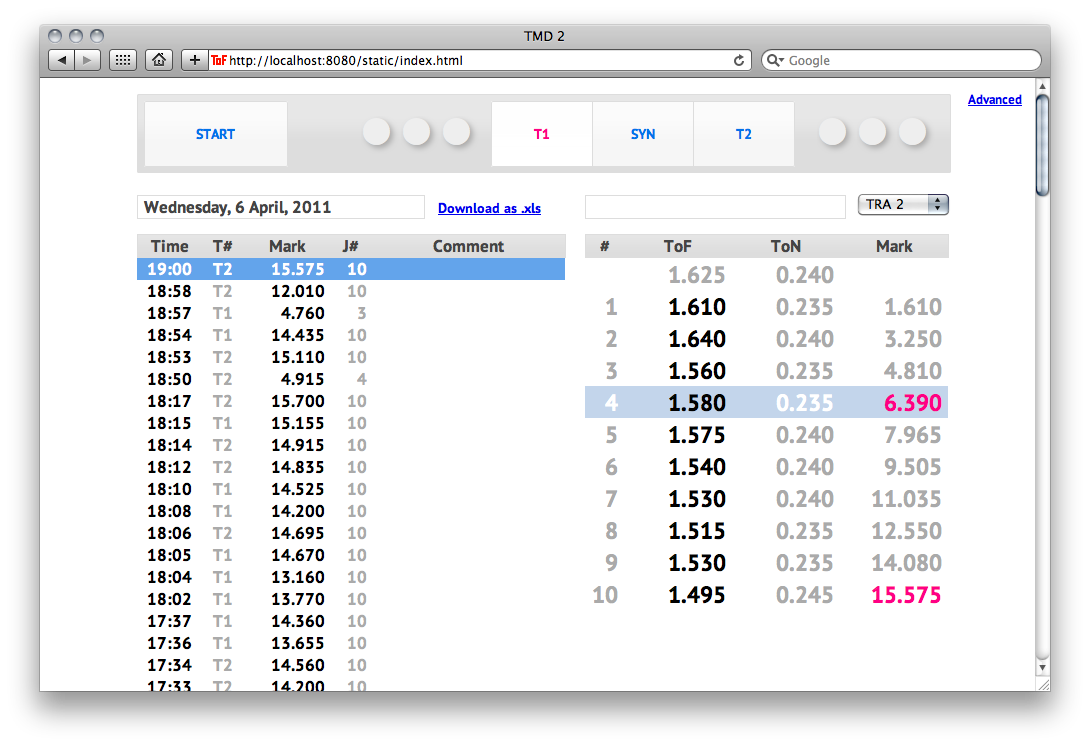 If you have any troubles installing or running the software, please consult the
software troubleshooting guide
.
Mounting on the trampoline
Please note that TMD2 units should be installed on the inner edge of the safety platform.
Remote Control
Remote control is currently available from iOS devices (iPad/iPhone/iPod).
If your computer and an iOS device are conneted to the same Wi-Fi network then it would be possible to control the TMD2 from the iOS device.
Find out your computer's IP address in the local network
HowTo: Go to 'Start > Run', type in 'cmd' in the box and press enter.
Type 'ipconfig' (in the new black box) and press enter.
All connections and IP addresses of the computer would be displayed.
Run ToF-monitor software on your computer.
On iOS device open Safari web browser and type in the following address: 'http://computer_ip_address:8080/'.
Now ToF-monitor is opened on your iOS device and you are able to conrol TMD2 remotely.